Roof Cleaning Biloxi Ms
Call Us
(228) 832-2482
Roof Cleaning Biloxi Ms. Ms Pressure Washing has been around for a very long time. Roof cleaning is one of our many specialties. We have been around for over 20 years, so I believe that it is safe to say that we have a lot of experience.
The roof of your home is probably one of the most expensive parts of your home. Replacing your roof can cost you a fortune. By maintaining your roof you can prolong the expense by 5-10 years. Sometime a good cleaning is all you really need. Before replacing your roof, you may want to be certain that it is really time for it to be replaced.
We have been in the game for a long time and we know how to make your roof look brand new. Over a period of time, your roof can be over-run with dirt, mold, and mildew. Maintaining it every now and again can keep your roof looking new and also keep it in good shape.
Time and time again, we have seen people replace their roof way before it needs to be replaced. Before you do that, give us a call and we will give you our honest opinion. Sometime a good cleaning is all you need. Dirt, mold, and algae can cover the surface making your roof seem like it is in worse condition than it really is.
If you are looking for Roof Cleaning Biloxi Ms why not trust a company who has more experience than any other company on the Mississippi Gulf Coast. Give us a call for a free estimate. (228) 832-2482.
Roof Cleaning Biloxi Ms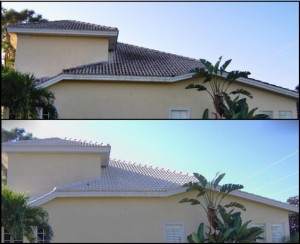 Roof Cleaning Biloxi Ms