Deck Cleaning Gulfport Ms
Call Us Today
(228) 832-2482
Deck Cleaning Gulfport Ms. One of Ms Pressure Washing's specialties is deck cleaning. We can make your deck look brand new. Your deck requires maintenance just like any other part of your home. Appearance is everything. Presenting a good appearance can add an extra 5-10% in your home's overall value.
Over time your deck can gather unwanted dirt, grime, mildew, or mold. It can almost seem as though there is no hope to restore your deck. We have been at this for many years and we know exactly how to make your deck look new again.
Ms Pressure Washing has been in business for over 20 years and has plenty of experience when it comes to maintaining decks. If you are tired of your deck looking dirty or old, give us a call and we will take care of it for you. We care about the environment and we also care about protecting what you care about.
Decks come in many different shapes and sizes. Every one of them takes a unique approach. We also would like to include preventative measures to ensure that your deck looks great for years to come. A little maintenance can go a long way and save you a lot of money. Regular deck cleaning decreases the buildup of dirt, grime, mildew, or mold. Replacing your deck can be a very expensive task. By maintaining it, you can keep it looking brand new and save a lot of money in the process.
Some of the benefits of periodically cleaning your deck are:
1. It prolongs the life of your deck.
2. Cleaning a deck can keep the surface free of mildew which causes the surface to become slippery.
3. A good looking deck is always attractive.
4. Cleaning a deck is far cheaper than replacing it.
We are experts at what we do. We have been in business since 1983, longer than any other pressure washing business on the Mississippi Gulf Coast. Why take a chance on other companies that have far less experience. For Deck Cleaning Gulfport Ms, give us a call (228) 832-2482.
Deck Cleaning Gulfport Ms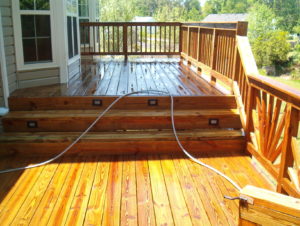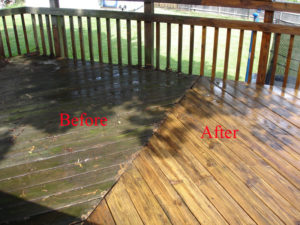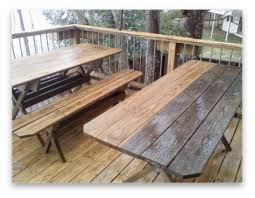 Deck Cleaning Gulfport Ms
Deck Cleaning Gulfport Ms