ABOUT US
35 Years of Serving the Mississippi Gulf Coast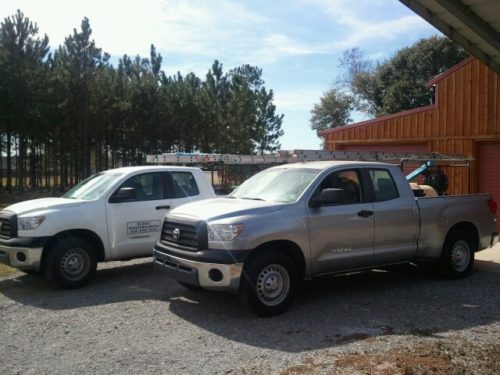 Parks' Housewashing
Established:
1983
Location: 12445 Canal Rd. Gulfport
No. of Employees: 4-5
Principal/Owner: Alex Parks
How It Started
It is fair to say that when Alex Parks began Parks' Housewashing service in 1983, he had an open mind about starting a business: he would have tried anything that sounded good to him. And he was willing to move from Meridian, MS to the coast to make his business work.
Parks who had been in retail sales for about 10 years, had been on the lookout for a business venture. He had put the word among his friends and family that he was in the market to strike out on his own in any type of business he believed he could make successful.
"My brother-in-law in Pensacola had this guy come out and wash his house, and he was really impressed with it, " said Parks. "So he called me and said, ' You should come down here and look this guy up.'"
Parks did just that, and he discovered that the house washer in Pensacola custom-modified the trucks used in the business and was willing to customize a truck for Parks.
"I was originally going to do this (business) up in Meridian," said Parks. "Come to find out, there wasn't enough of a mildew problem in Meridian. You need to be in a coastal area with saltwater to get more mildew. So my wife and I decided to sell our new house in Meridian and move to Gulfport," he said. "I had checked it out down here, and there wasn't anybody doing it (housewashing)." Even though he saw the Coast as an open market for his housewashing service, Parks remembers coming to the Coast as "taking such a big chance." He and his wife both quit their jobs in Meridian to make the move.
Soon after arriving on the Coast, Parks started an advertising campaign to educate residents on what housewashing is, and, he said, "Business just really took off. I had one little truck, and I was just running around like crazy." He was a one-man operation in those days and spent his time not only performing his business's services but also explaining his services.
"Now, I've got competitors out there, and people know what housewashing is, but I had to introduce it," he said. Though it was a difficult task at first, he is proud of being successful at starting such an unknown business.
In the beginning with only 1 truck, Parks Housewashing was 95% residential; today with 3 custom trucks in operation, Parks' washes condominiums, apartments, and storefronts along the coast. Parks is also a government contractor and washes base-housing as well.
The work these guys do is amazing.   Just look at some of the before and after comparisons on their website.  I would highly recommend them to anyone looking to get their house or driveway pressure washed.  Incredible lasting results…
We have enjoyed Parks' incredible service for more than 20 years.  Washing our home every 6-12 months has kept our paint and home looking brand new. Recently, we purchased a historical registry home built in 1892 and the exterior had not been cared for in some time.  Parks' painstakingly cleaned this home with greatest care…
Used them at my house. Great guys to work with.
They did a wonderful job and are very professional at a reasonable fee. I highly recommend!